Starting a temp agency can create a lasting source of profit, especially with proper management. With more and more organizations needing employees for daily operations, establishing a staffing agency provides many benefits and opportunities for companies and employees alike.
If you're interested in starting a staffing agency, or are already in the process of establishing one, it's essential to start on the right foot. That's why the team at Porter Capital compiled this list of steps and guidelines on how to run a staffing agency to guarantee your business has the best chance for success.
What Is a Temp Agency?
Temporary staffing agencies, or temp agencies, recruit individuals for their clients' work opportunities. A staffing service recruits for temporary employment (temp workers), direct hire, and temp-to-fill time. A staffing business has rapid business growth potential when appropriately managed. There are many different parts to operating a staffing firm, and it's important to cover them all to be profitable.
How to start a temporary staffing agency
1. Evaluate Your Skills
To be successful in the staffing industry, an agency requires you to find clients, find employees, match clients with employees, and manage the agency. A business owner must complete these skills themself or hire a professional for the small business to succeed.
2. Find Your Target Market
Once you've determined your skill sets, you need to find the right industry. It's a good idea to examine different markets and see where your company can find success. Each industry's supply and demand will differ, so it's important to start a staffing agency in the industry you understand the most.
The three segments of the staffing industry are office or clerical, industrial, and professional or technical. The target market you choose will be a niche within an industry segment. Once you select a particular group, the agency grows from there.
The best clients are those that are regularly hiring employees. Target potential clients that might not keep up with the hiring process themselves, whose business fluctuates daily and need temp workers on short notice, or who need a third-party opinion in hiring decisions.
3. Develop a Business Plan
A business plan showcases your company's strategy to begin operations in a particular market, create a legal business and develop profitable operations. Your business plan should build upon the research you have already done to establish your operation. Some factors your plan should address include:
Your business name: The name of your agency is how clients know who you are and your area of expertise. Aim to create a business name that is memorable and informative.
Business address: Depending on local and federal regulations, you may be able to operate your temp agency from your home. Before establishing your business's address, check the tax and government regulations to ensure your location is acceptable to host your temp agency office.
Market niche: When deciding your business's specialty, choose a market that will provide the most profit. Your specialty should depend on your expertise and unfulfilled market demands.
Marketing plans: Establishing a business plan also guides your future marketing techniques to notify potential clients about your service offerings.
Financial strategy: A successful financial plan relies on creating a realistic prediction for how much business you plan on conducting at the start. When creating your financial strategy, account for all necessary costs related to daily business operations.
Business goals: Establishing short and long-term goals is essential for financial success. Base your targets on the volume of work you plan on completing when you first begin your business and after a few weeks or months of operation.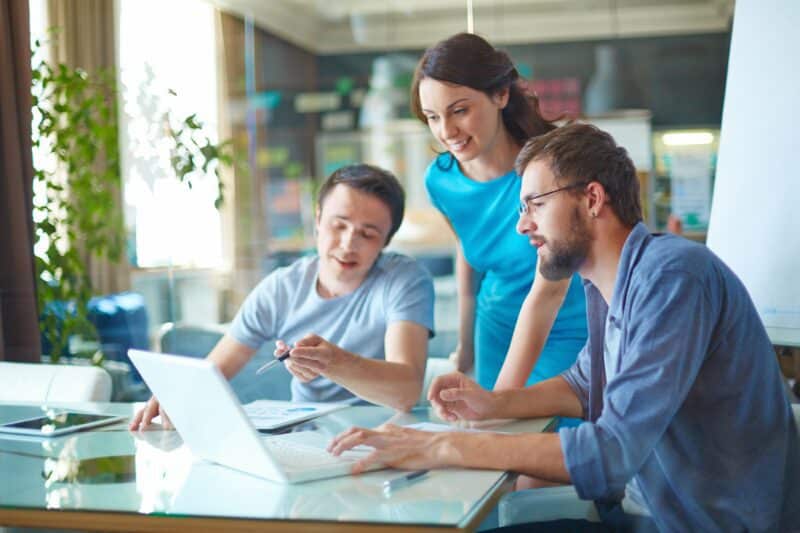 4. Form a Legal Entity
It is important to establish your new temp agency as a legal entity to protect you in the case where an employee or another business takes legal action against your agency. The most common types of business entities include:
Sole Proprietorship
Partnership
Limited Liability Company (LLC)
Corporation
Once you have set up your business entity, ensured the insurance entirely covers you, found employees and clients, and secured a payroll service to stay on top of your business's cash flow, you are ready to start placing temp workers in jobs.
5. Get Insurance to Protect Your Temp Staffing Agency
In addition to licenses and permits, you will need to invest in insurance for safe and lawful operation. Business insurance protects the financial well-being of your company if a covered loss occurs.
The type of insurance policy you purchase will depend on which risks you think require coverage. If you are unsure what kind of risks your temp agency may face, you may want to begin with general liability insurance. This coverage is a great place to start for small businesses.
Another beneficial policy is worker's compensation insurance. If you are planning on hiring employees, worker's compensation coverage might be a requirement by your state. Some other popular insurance policies that can protect you, your agency and your employees include:
Business owners policy
Employee theft and crime
Umbrella policies
Property coverage
Employment practices liability insurance
Health insurance
Commercial property insurance
6. Calculate Your Costs
When determining your business plan, you need to make sure you account for the financial costs involved in starting a temp agency. The two types of costs involved when starting a temp staffing company include:
Establishment Costs
Establishment costs include one-time fixed costs to start a staffing agency. These costs include:
Setup costs for forming the business entity and contracts
Office automation – computers, printers, etc.
Software – payroll and HR software, account, training, job searches, job applications, etc.
Office space
Business insurance
Operational Costs
The next setup costs are your operations costs. If you target a higher-skilled market, your startup costs will be higher because salaries will be higher, there will be more intense training, and you'll need to present your business with a professional look and feel. Those costs include:
Clients
Advertising costs
The first month of salaries
It's important to note that you need to pay your temp workers weekly or bi-weekly, but your clients will pay you monthly or bi-monthly. The delay in payment will interrupt your cash flow if you don't plan properly. A common and very beneficial way of making sure you compensate your workers on time and your business doesn't suffer is working with a payroll factoring company.
A payroll factoring company will pay you within 24 hours on your client's invoices. You get access to capital to pay your employees and temp workers without interrupting cash flow. If you don't budge your business's cash flow properly, you'll struggle to meet payroll, underpay employees, and ultimately fail.
7. Find Clients and Employees for Your Temporary Staffing Agency
You won't need many employees at first, but as your agency grows, you'll need more help. Ensure that you have enough workforce to run smooth operations make placements and stay on top of payroll.
Finding clients to work with is extremely important to your success. You need to show them why your staffing company stands out from the others and why they should work with you. Develop creative ways and offer competitive value when targeting potential clients.
Do you need help with payroll factoring?
Porter Capital is a leading provider of payroll funding for staffing agencies. For more information on how we can help you grow you staffing agency, and stay on top of payroll, fill out this form and get a free consultation.