Cash flow gaps can happen among all types of companies and agencies, including start-up ventures and established businesses. To avoid cash flow gaps in your company's finances, you may be interested in some financial management tips for staffing agencies.
Tips for Managing Staffing Company Finances
As your staffing company grows, unforeseen challenges could arise while managing your finances. Keep your company operating smoothly by ensuring you have the capital needed and the right financial strategy in place. When you implement an effective process for managing your staffing company finances, you can overcome gaps in cash flow. Below, we offer financing tips for a staffing agency.
1. Factor in All Expenses When Creating Your Business Plan
When developing your business plan, factor in all of your expenses, and consider establishing an emergency fund. This will help you figure out your costs and how they may affect your company's future growth. Develop a detailed list of your staffing agency's needs and costs, including large and small purchases. The following are some of the costs you may want to include:
Utilities
Software
Office space
Labor costs
Office supplies
Computer equipment
2. Negotiate Favorable Payment Terms
Another tip for financing a staffing company is to negotiate favorable payment terms. If you can lower your terms, you may be able to bridge the gap between the amount of capital you need and the amount you have.
Avoiding extended payment terms can help you avoid gaps in cash flow, so establish your objectives with every new customer from the start. Additionally, be sure to outline in your contracts the terms that customers are expected to follow.
3. Pay Attention to Client Relationships
Continuing to pay attention to client relationships will help your staffing agency keep track of which clients are more reliable and pay on time. Relationships with clients can change over time, so they require regular evaluation. A strong relationship with a client can be the difference between an on-time or even early payment and a late payment.
4. Properly Vet New Customers
To boost your cash flow and avoid gaps, make sure you vet your staffing agency's new customers to avoid accepting clients who are slow to pay. Check each new customer's credit and be sure to follow up on references. This helps you avoid bad debts or supplying workers to companies with poor track records for on-time payments.
5. Consider Financing Options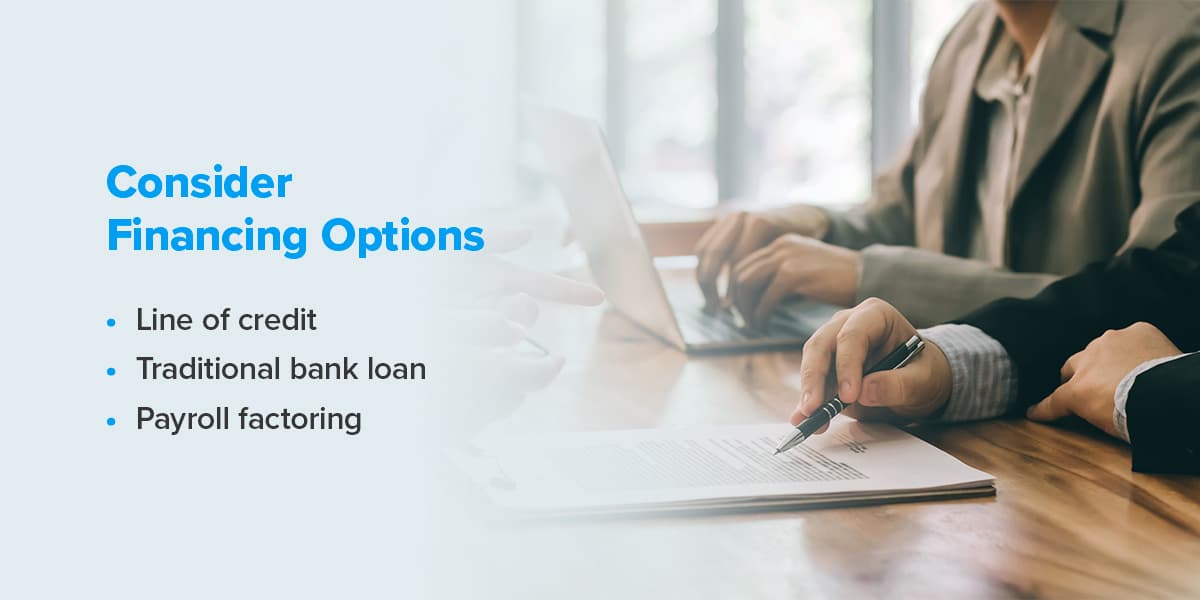 If you have cash flow issues, this could negatively affect your staffing agency's plans for growth. When cash flow is tight, you could actually spend more money and time trying to overcome gaps and hurdles. Fortunately, you can increase your available working capital and ease cash flow by considering a few financing options:
Line of credit: A line of credit is a flexible funding option you may be able to apply for at a financial institution. You use your line of credit when you need it, and you only pay interest on the amount you borrow, so there are no fixed repayments.
Traditional bank loan: The traditional bank loan is a familiar financing option that allows you receive a lump sum of cash. You will need to repay this loan via fixed monthly payments. Know that it can be difficult to obtain a bank loan, especially if your staffing company is small or new. Banks also tend to require a personal guarantee or collateral against a business loan.
Payroll factoring: Payroll factoring tends to be more of a flexible alternative. Right after an invoice is raised, a factoring company will purchase the invoice at a discounted rate. Payroll factoring can offer significant advantages to your staffing agency. The application process is straightforward — there aren't any fixed repayments and you can apply whether your agency is new, small or has less-than-perfect credit.
6. Offer Favorable Rates
Offering favorable rates can help your staffing agency avoid cash flow gaps and retain customers. Consider both the rates and credit you offer and make them favorable enough to entice your customers to pay on time or early. For example, you can offer a discount on your standard rate if your customer pays early. If you offer a rate discount, monitor the situation to confirm compliance with the agreement.
By offering discounts for early payments, you may be able to receive payments faster on some outstanding accounts receivable (AR). Though some clients will not take advantage of rate discounts and there may be some additional administrative time and effort, this step will be worthwhile if it helps improve your cash flow.
7. Follow up on Outstanding Invoices
You can begin pursuing outstanding invoices as soon as they are overdue. You may even want to be proactive by contacting customers before the due date. For example, you could reach out to a customer with a large balance a few days before their payment date to remind them about the upcoming due date. As soon as an AR account becomes overdue, start the collections process. Continue pursuing payment for delinquent accounts until it is resolved.
8. Monitor and Track Company Spending
To successfully run a staffing agency, you should know where each dollar is coming from and where it's going. This is why it is essential to monitor and track your company's spending. You may want to invest in software or an employee capable of handling your accounts, managing your expenses and sending money to the proper accounts. Monitoring and tracking your spending will both prevent a cash flow disruption and make tax season easier.
9. Allocate Workers Based on Payment History
When you are ready to allocate a worker to their assignment, factor payment history into your decision. For example, if two of your clients have a need for temporary staff and you do not have the available workers necessary to fill both contracts, you should prioritize the customer that has the best payment history.
Contact Porter Capital for Payroll Factoring
Payroll factoring can help your agency with any cash flow issues. At Porter Capital, we can review your invoices and advance your agency cash upfront in as little as 24 hours. We will fund 85% to 95% of the invoice value. Once the invoices are paid, we will reimburse your staffing company the funds we originally held, minus our small factoring fee.
At Porter Capital, we have been funding companies through payroll factoring since 1991. With a simple application, fast approval process, no hidden fees and rates as low as 0.75%, your staffing agency can get the funding it needs. Some of the key advantages of payroll factoring include:
Increased cash flow: Cash that was previously tied up in your accounts receivable is now available immediately, giving you the ability to fuel company growth.
Improved financial position: With payroll factoring, you can free up cash needed to reduce debt and reinvest in your company.
Ability to combat seasonal changes: Factoring also allows your company to smooth out your cash flow peaks.
Flexibility: At Porter Capital, we let you choose how much and how frequently you want to factor your invoices or accounts receivable.
Additional support: We provide free ancillary services like cash posting, full collections and a full-service credit department.
Contact us at Porter Capital for payroll factoring and more staffing company finance tips.