If you're starting a staffing agency, you're doing so because you know you can make a difference to organizations looking for talent. You're likely not starting your business because you love paperwork.
Even so, there are forms and documents you need in order to start a staffing agency. Getting this part of your business right sets you up for success and keeps you compliant.
Let's take a look at the staffing agency forms and requirements you need to know about.
Do You Need a License to Start a Staffing Agency?
Many states and municipalities require you to have a business license to operate any kind of business in your location, including a staffing agency. This license shows you have permission to offer services or products to the public. Some areas also require staffing agencies to have additional industry-specific licenses. This is most likely a requirement if you specialize in placing staff in highly regulated industries, such as healthcare or construction.
Since licensing requirements vary widely, contact the business development representative or office in your city or town to confirm the guidelines in your area.
What Are the Requirements to Open a Staffing Agency?
There are specific documents you need to send to the government or other parties. There are also documents you need to keep for yourself. These include federal, state, regional and business and personal documents.
Federal Documents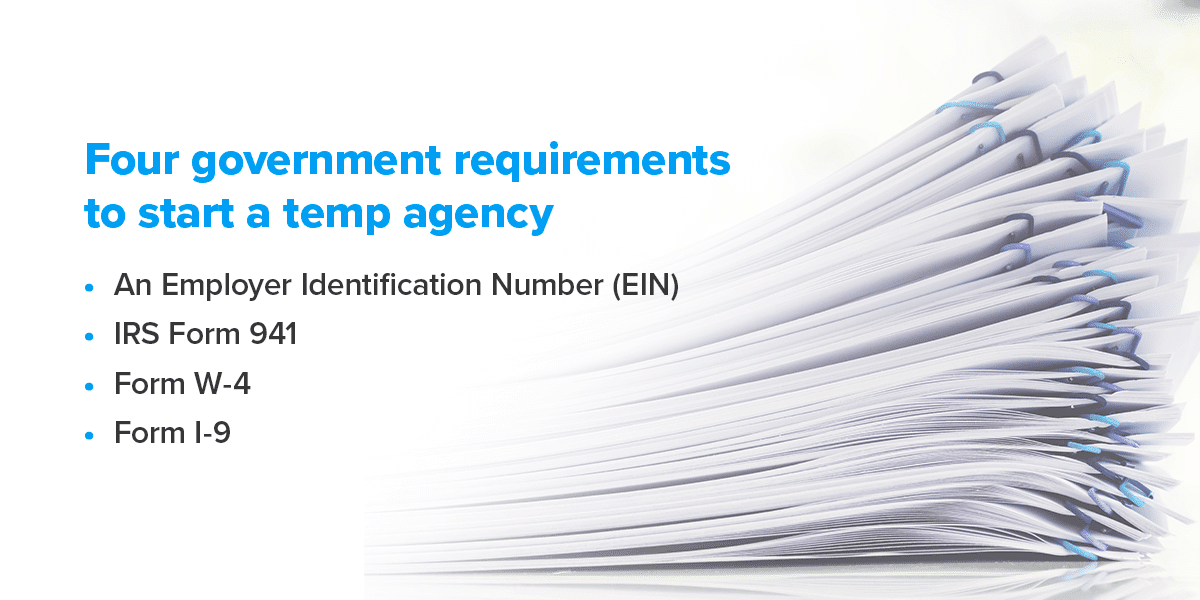 There are generally four government requirements to start a temp agency when it comes to documentation:
An Employer Identification Number (EIN): An EIN is required to hire employees. You can apply for one by filling out and submitting Form SS-4 on the IRS website.
IRS Form 941: Also known as the Employer's Quarterly Federal Tax Return, this form needs to be submitted to the IRS every April 15, July 15, October 15 and January 15, along with your payment.
Form W-4: Also known as the Employee Withholding Certificate, this form is filled out by employees. It determines how much taxes you need to withhold from every employee's paycheck and remit to the IRS.
Form I-9: Also known as Employee Eligibility Verification, this form proves your employees are qualified to work in the United States. You can get this form from U.S. Citizenship and Immigration Services.
State Documents
As part of business registration in your state, you will get a state tax identification number. You will use this number to pay your agency's state payroll taxes.
In addition to state licensing requirements, there may be additional forms you must fill out as you establish a business structure. Talk to an attorney to determine whether a corporation, partnership, Limited Liability Company (LLC), sole proprietorship or other structure may be best for your business. If you choose a corporate entity or LLC, you will need to file Articles of Incorporation to be chartered with a state's Secretary of State. You can charter your business in the state where it is located or in another state.
Regional Documents
Every municipality, town, city and county has its own requirements. In some cities, you may need to file documents for a sign permit if you will have a sign in front of your offices. Check city and county laws or contact your local chamber of commerce to find out what your specific requirements may be.
Business Documents
In addition to a business license or certification, you will need to file insurance documentation. Most staffing agencies must have a general liability insurance policy to protect against claims arising from injuries to clients. Most states also require you to carry workers' compensation insurance, which pays benefits to workers injured on the job.
Personal Documents
In addition to the official documents you will need for your staffing agency, there are some personal documents you may want to create and keep:
A business plan: Your business plan outlines your operational plan, marketing strategy, financial plan and a description of your company. It's useful to help you clarify how you will run your business. Lenders and investors may also ask to see a business plan.
An employee handbook or worker agreement: This document should outline the expectations you have for your workers. It can list the rights and duties of both employees and your agency.
A non-disclosure agreement (NDA): You may want staff members and the temp workers you provide for other companies to sign an NDA, which prevents workers from sharing any proprietary information they encounter on the job.
Client contracts: You will want to have an agreement in place before you offer any staffing. These documents state what services your agency will offer and any details related to the work.
Getting Your Agency Off the Ground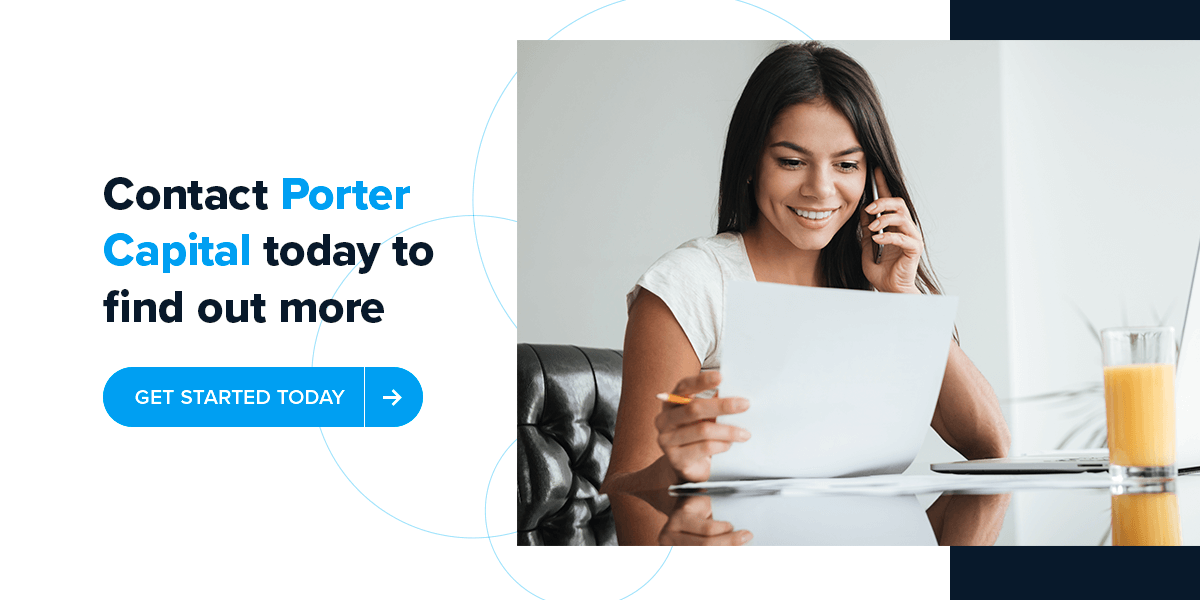 As you get your staffing agency started, you'll also need to consider cash flow. Turn to Porter Capital for help creating a healthy cash flow as a new company.
Our invoice factoring services support start-up ventures and established companies. We will review your invoices and advance your company up front, within 24 hours. You can use the cash to pay for overhead, staff and anything else you need to grow your business. Our services close the gap between your current need for resources and the day your invoices are paid.
Contact Porter Capital today to find out more about how our invoice factoring services can help you grow your staffing agency.