Best broker referral commission rates…

Receive up to 15% of the fees for the life of the deal.
Porter Capital Broker Rewards Program
In addition to a 15% commission for every qualified lead, our brokers are also eligible to participate in our rewards program.
Determine if the lead qualifies:
Prospect's invoices are owed to them by businesses, not consumers.

Prospect's invoices are not affiliated with the construction industry.

Prospect's invoices are not reimbursed by insurance proceeds. ​​​​​

Prospect can generate an A/R Aging Report.


Prospect is actively seeking a Factor/ABL to improve their cash flow.
Submit the lead:
| Number of Leads | Gift Card Amount |
| --- | --- |
| 1 | $50 |
| 2 | $75 |
| 3 | $100 |
| 4 | $125 |
| >5 | $150 |
Get rewarded: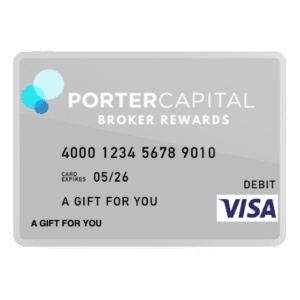 *Regardless of whether or not the transaction funds, you will receive a Visa Gift Card. By your 6th qualified lead, you are eligible to continue receiving the $150 reward for each lead.

Types of Financing
With flexible lending solutions, Porter Capital can help clients that may not qualify for traditional financing. We offer Invoice Factoring and Inventory Financing for businesses primarily in the United States.

Industries
We work with businesses that bill other businesses in the staffing, manufacturing, oil & gas services, distribution, apparel and other industries. We do not work with companies that progress bill and those that bill insurance companies.

Credit Lines $10K – $15MM
We can help companies expand, acquire other companies, pay employees, finance new equipment or help companies obtain the inventory they need to land larger customers and/or expand their offerings.

Advance Rates
We offer advances as high as 90% on accounts receivable.
WHO WE HELP
With flexible funding options that work for the way companies do business, we help those not eligible for traditional financing. From startups to large companies, we can help a business experiencing:
High customer concentrations
Rapid or high sales growth
Expansion
Seasonal sales
Poor cashflow
Extended trade payables
Turnarounds
High leverage
Undercapitalization
New ownership
Past or current bankruptcy
An acquisition
Being asked to leave current lender
Losses
Unpaid taxes
Problems with personal credit history